⭐️ 2022 Burlesque Hall of Fame "SASSY LASSY AWARD" Recipient In Recognition of Outstanding Contribution to the Art of Burlesque. 
⭐️ 2015 BurlyCon "GUEST OF HONOR" for his work as a Neo-Burlesque Pioneer & Music Historian.
In 1999 Ronnie Magri became the Musical Director, Bandleader & Drummer for the Shim Shamettes, one of the first authentic 1950's style burlesque revival shows in the nation. The show made its debut in April 1999, for the Grand Opening of the Shim Sham Club performing on the same bill alongside saxophone legend Sam Butera (Louis Prima & Keely Smith). Along with his group, Ronnie Magri & the Shim Sham Revue Band, the Shim Shamettes performed regularly at the Shim Sham Club located in New Orleans' French Quarter. 
Magri & his band, along with the Shim Shamettes, were featured prominently in the 2001 two-hour A&E documentary, It's Burlesque! That same year, Magri and his group backed some of the very first names in neo-burlesque at the first ever neo-burlesque convention, Tease-O-Rama, which was held in New Orleans, May 18-20, 2001. 
When the Shim Shamettes disbanded in 2002, Magri was instrumental in putting together the Shim Sham Revue, featuring the Southern Jeze-Belles. The show became popular not only with locals, but famous worldwide and was featured in such publications as: USA Today, Playboy, Maxim, The Wall Street Journal and other media sources.  
In 2002, Magri released his album "Shim Sham Revue" The Music of New Orleans Burlesque Shows of the 30s, 40s, and 50s". A thoroughly entertaining CD that brings to life music that once filled the nightclubs of Bourbon Street. The album was nominated for two 2002 Offbeat Magazine "Best of the Beat" awards for "Best Album by a Louisiana Artist" and "Best Emerging Band." In 2003, Magri was nominated for a Big Easy Entertainment Award for "Best Traditional Jazz Band."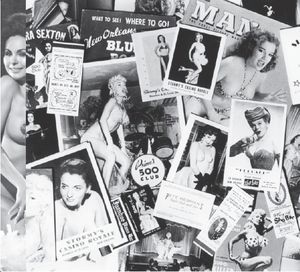 Through his work with the Shim Sham Revue, Magri has been associated with burlesque superstar Dita Von Teese (Playboy Covergirl December 2002). Dita made her New Orleans burlesque debut with the Shim Sham Revue in 2002. Since then, Magri has collaborated with Dita and has had his music used in her shows: MAC Viva Glam "Lipteese", "Be Cointreau" and "Strip! Strip! Hooray!". Dita also gave special acknowledgment to Magri in her 2006 book "Burlesque and the Art of the Teese".